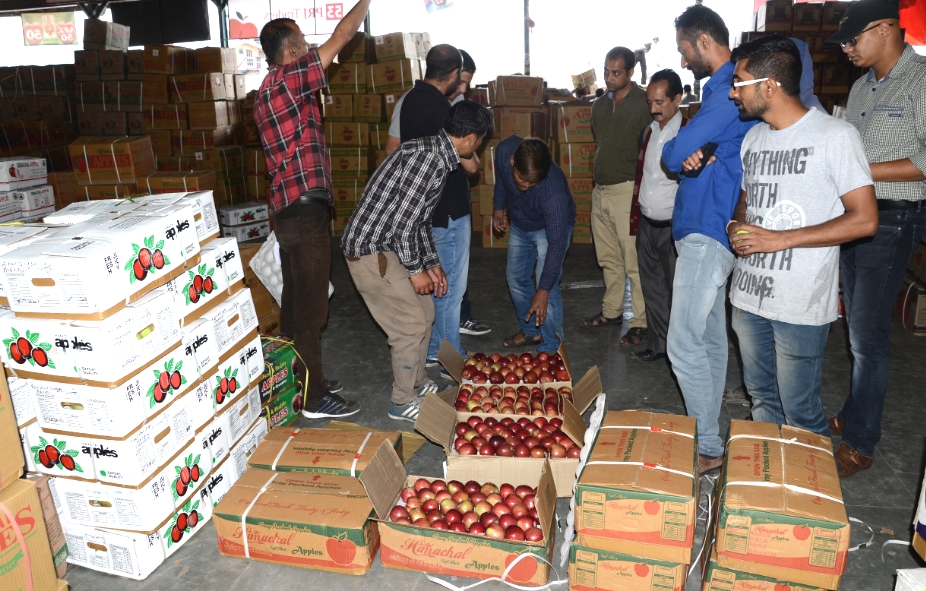 Apple growers of Shimla, Kullu , Kinnaur and Mandi districts of Himachal Pradesh, not getting payments for apple sold to arhtiyas in market for several years are up in arms against the state government for not implementing Agriculture Produce Market Committee (APMC) Act -2005 to regulate the payment process.
After a long wait many of them have registered FIRs against the arhtiyas at their own in police stations. At the same time they have held protests demanding registration of FIRs by the APMCs against the defaulting arhtiyas and stern action in the FIRs.
The farmers have recently lodged FIRs against Agri Fresh Fruit Center Gumma, Sanjta Fruit Company Jubbal, Jyoti Fruit Rohru, Diksha Fruit Company Parala, Chauhan Brothers Parwanoo, Mehta Fruit Company Parwanoo and Jadede Fruit Company Parala.
Apple growing is one of the main vocation of people in several districts of Himachal Pradesh. Apple economy contributes estimated Rs 4500 crores every year to the state's economy . Himachal Pradesh is also known as fruit bowl of India and the states' apples have a very good market throughout the country and even in some foreign countries. Lakhs of people in the state are employed in apple growing .
However, during the last few years it is turning out a nightmare for hundreds of small and marginal farmers as their hard earned money from sale of apple is being "looted " by certain unscrupulous arhtiyas buying apple from them .
Feeling cheated the apple growers have now formed Kisssan Sangharsh Samiti (KSS) to take up this issue with the state government and launch a joint struggle for recovery of their dues and implementation of the APMC Act- 2005.
Sanjay Chauhan, former Mayor of Shimla and secretary of KSS tells, "A large number of apple growers are being cheated by the unscrupulous arhtiyas and apple traders every year and payments of over Rs 100 crores of apples sold in the market has not being paid since last many years."
Chauhan tells, "While the state government has failed to implement the APMC Act and regulate the apple trade in the state apple orchardists have now registered hundreds of FRIs against the cheaters in different police stations."
Holding the state government responsible for plight of the apple growers, Rakesh Singha CPM legislator from Theog and himself an apple grower, says, "As per the APMC ACT every trader has to give bank guarantee to APMC for starting the trading business in apple, every trader has to deposit equal amount to purchase made that day with the respective APMC and every trader has to make payment to apple grower after fall of hammer, but the APMCs are not enforcing these proviso of the Act."
"I had raised this issue on the floor of Himachal Pradesh Assembly during the last session and state government had assured action but still payments by arhtiyas are not being made even after six months of the sale, cheques issued to farmers are getting bounced back and almost every arhtiya is keeping payments pending for several months to the tune of Rs 4 to 5 crorers every year," Singha adds.
The KSS has been demanding registration of FIRs under section 420 and 501 of IPC against the arhtiyas not making payment to apple growers and regulation of apple trade to check "loot" of a large number of small and marginal apple growers being "cheated' by road-side traders siphoning –off their hard earned money after buying apple crop of several crorers every year.
The KSS have also been mobilizing the growers on this issue and also held a protest demonstration at the APMC market Shimla on April 22nd to highlight the issue. Their struggle is still going on.
Dr Ram Lal Markanda, Agriculture Minister in Himachal Pradesh government has said, "We have been telling the APMCs to register the FIRs in such cases, some payments have been recovered also but there are a few drawbacks in the APMC act and the government is in the process of forming a new policy in this regard by fixing at least minimum security for the arhtiyas for making the trade foolproof."