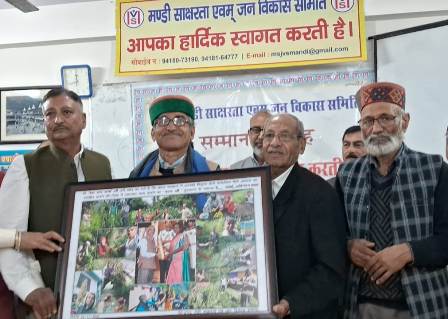 Mandi Shakshrta and Jan Vikas Samiti (MSJVS) organized a function to honour Padma Shri Nek Ram Sharma and Mandi Municipal Corporation Councilor from Nela ward Rajender Mohan, for their valuable contributions to the society through their commendable works, at Mandi on Saturday.
Padamshri Nek Ram was honoured for his valuable contribution in promoting organic farming and traditional grains among farmers while Rajender Mohan for his excellent work to provide relief to people during the last monsoon calamity in Mandi district.
The function was presided over by Chairman of the MSJVS Hemant Raj Vaidya and proceeding of the function was conducted by Bhim Singh, General Secretary of the Samiti. Both the recipients of the honour were felicitated by the Chairman and member of the Samiti Birbal Sharma by presenting a shawl, cap and mementos.
Speaking on the occasion Nek Ram Sharma said, "Many people were behind my success as no campaign can be completed without the support of an organization and founding General Secretary of the MSJVS Prof. Sunder Loahia played a very important role in motivating me to work for the society, while working in the literacy movement and I still remember his inspiring words asking me to contribute for the social cause."
"After drawing inspiration from Prof. Lohia, I involved myself in making people aware about protecting the environment and preserving traditional grains and never looked back; today I am deeply satisfied by contributing something for the society," he added.
The Nela ward councilor Rajendra Mohan said, "We take forward whatever we learn from the society and during the last natural disaster I remained amongst the people during the hour of need, being their representative and tried to create a sense of hope among them by rendering whatever little help I could do for them."