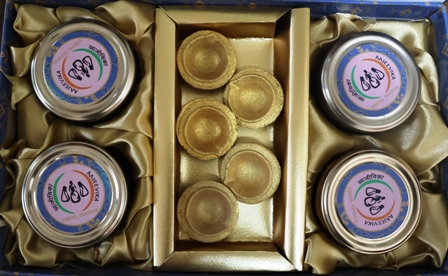 In its earnest effort to empower rural women of Mandi district, the Mandi District Rural Development Agency (DRDA) is helping them market local products prepared by Self Help Groups (SHGs) during the Diwali festival.
The gift packs contain traditional local sweets made from the flour of kodra like kodra ladoos, biscuits, panchgavya diyas, soybean burfi, besides pure local honey and turmeric.
The Diwali gift packs prepared collectively by rural women through Self Help Groups are being marketed with the help of the DRDA in Mandi town. While the DRDA is directly selling the gift packs to people they are also being sold in an open shop in the Indira Market in Mandi town under National Rural Livelihood Mission programme.
Additional Deputy Commissioner Mandi Nivedita Negi after visiting a stall selling the gift packs said, "The main objective of this initiative is to encourage SHGs in marketing their local products; this year the SHGs have prepared sample gift packs to sell during Diwali and after assessing response of people and their demand, the gift packs would be prepared in a large quantity."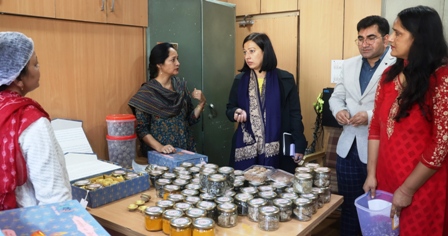 She said, "The district administration is planning to involve other departments for patternizing the gift packs and appealed to people to encourage rural women in marketing their local products as the gift packs carry a message of taste, health and women empowerment".
The Project Officer of DRDA Mandi GC Pathak said , " The SHGs are being provided ample opportunities for exhibition and sale of their products through Him Ira sales centers and weekly sales centers in the district to make rural women self-reliant and promote local products ."