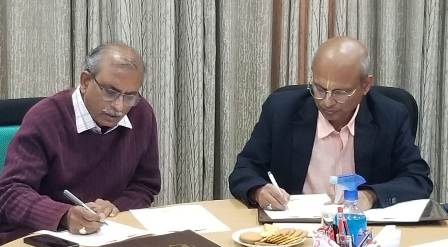 The Indian Institute of Technology (IIT) Mandi has signed Memorandum of Understanding (MOUs) with the Defence Research & Development Laboratory (DRDL), Hyderabad, NIT Uttarakhand and Sant Longowal Institute of Engineering and Technology (SLIET), Longowal, for research and academic interactions.
The MOU with the DRDL Hyderabad would collaborate with Research Center of IIT Mandi and facilitate off-campus Ph.D./M.Tech (Research) registrations for candidates selected by DRDL engaged in full time research at DRDL, besides student exchange programme. Students from the IIT will have opportunities to pursue PhD and M Tech (research) courses in defence related topics at the DRLD or work for their research projects.
Both the institutes would also collaborate to jointly pursue research projects sponsored by the Ministry of Defence and R&D schemes, besides organizing joint seminars and workshops.
This MoU with the NIT Uttarakhand would provide an opportunity to B. Tech students of the NIT to pursue PhD programmes without qualifying GATE at IIT Mandi.
Similarly, MOU with SLIET Longowal would also promote collaborative research and PhD programmes, joint seminars, workshops and faculty exchange programmes.
Registrar of IIT Mandi Dr. Kumar Sambhav Pandey said , " The institute is vigorously pursuing academic research and entrepreneurial alliances to foster collaboration at every level."