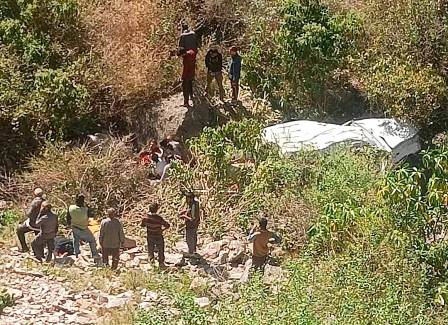 In yet another accident five persons lost their lives and seven other were injured in a road accident on Friday morning at about 11 am on Karsog – Shimla road near Alsindi, under Karsog sub division of Mandi district, when a Tata Sumo Jeep (HP30-6046) fell into a deep gorge.
Twelve persons were reportedly going to attend a farmer's meet from Jassal to Balindi when the driver of the jeep lost control near Alsindi and the vehicle fell down from a hill.
Five women passengers and the driver of the jeep died in the accident while seven other passengers were seriously injured. The deceased have been identified as Hari Kishan – (driver), Surakasha Devi – both resident of Jassal, Lata Devi of Kholtu, Kora Devi of Bandali and Kalu Devi of Shakrinidi. Kamlesh Kumari, Reema Devi, Manorama Devi, Satya Devi, Krishna Devi, Meera Devi and Savitri Devi have been injured in the accident.
Three persons seriously injured in the accident have been admitted to IGMC Shimla while four are treated in government hospital Sunni.
Chief Minister Sukhvinder Singh Sukhu has expressed grief over the death of five people and has directed the authorities to provide assistance to the families of the victims.
PWD Minister Vikrmaditya Singh, who was passing by the accident site, helped in rescuing the victims and taking them to the hospital.
Four passengers had died in another accident on Thursday on Kotli road near Mandi after a Tempo Traveler veered off the road.