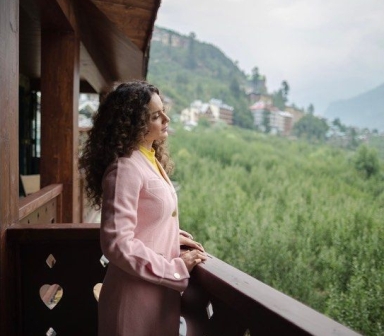 Film Actress Kangana Ranaut's statement expressing her desire to enter active politics by contesting next Parliament election from BJP has created a murmur in Mandi BJP since the actress hails from Bhambla area falling in Mandi Parliamentary constituency.
Kangana Ranaut, a successful film actress, a strong votary of BJP politics and a big supporter of Prime Minister Narendra Modi, has expressed her desire to enter active politics.
During her pilgrimage to holy town of Dwaraka in Gujarat she said, "I would like to enter active politics by contesting the next parliament election on BJP ticket by the grace of Lord Krishna; I support BJP politics and appreciate policies of Prime Minister Narendra Modi." she added
Though she has not made clear from where she would contest the next election but it is quite obvious she would like to contest from Mandi Parliamentary constituency as she hails from Bhambla area, which is part of Sarkaghat in Himachal Assembly constituency and Mandi parliament constituency.
Moreover, the film actress has recently built a house in famous tourist place Manali and has been spending a lot of time there and lived for several months during COVID pandemic.
Himachal BJP leaders have not reacted to Kangana's desire to contest the next parliament election, however former Chief Minister Jai Ram Thakur said, "Everyone is free to express desire of contesting election in a democracy but BJP tickets are finalized by BJP leadership keeping in view several factors."
BJP leadership is yet to finalize a formidable candidate to contest from Mandi parliament seat as the seat was snatched from BJP by Congress candidate Pratibha Singh defeating BJP candidate Brig. Kushal Thakur (retired) in the by-election necessitated by death of BJP's Mandi MP Ram Swaroop Sharma, who had won the last parliament election by nearly 4 lakh votes.
Since the political equation has changed in the state and Congress party is in power here, winning Mandi parliament seat would be quite a challenge. More so, as three times Mandi MP Pratibha Singh is wife of former six times late Chief Minister Virbhadra Singh who remained Mandi MP several times.
Though, BJP leadership is yet to react officially on the candidature of the film actress but her desire to contest parliament election may find favour with the leadership as they are still looking for a strong candidate to challenge the Congress candidate and may use Kangana's  glamour.