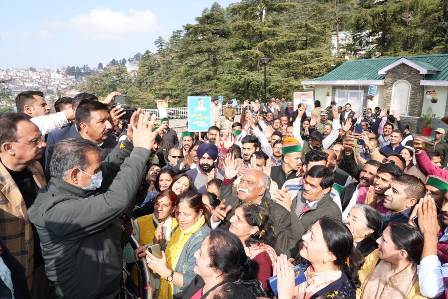 Chief Minister Sukhvinder Singh Sukhu was given a rousing welcome on reaching back to Shimla on Saturday after remaining admitted to All India Institute of Medical Sciences (AIIMS) New Delhi for treatment of stomach related ailment, by his Cabinet colleagues, MLAs and his supporters.
The CM was shifted to AIIMS New Delhi on October 27 after getting treatment at IGMC Hospital Shimla.
His supporters had lined up from Marina Hotel to his official residence Oak Over and showered flowers on him.
In an informal interaction with journalists, the CM expressed his gratitude for the blessings and prayers for his health by people of Himachal Pradesh during his recovery period and also extended greetings on the occasion of festival of Diwali.
He said," The Doctors have advised him to take rest and maintain a proper diet, but I remain committed to fulfilling my official duties; I will not campaign for Congress candidates in the ensuing Assembly election in five states but am quite confident the Congress would come to power in all these states, "he added.
Deputy Chief Minister Mukesh Agnihotri, other Cabinet colleagues, CPS's, MLAs and Chief Secretary Prabodh Saxena among others were present to welcome the CM at Oak Over.