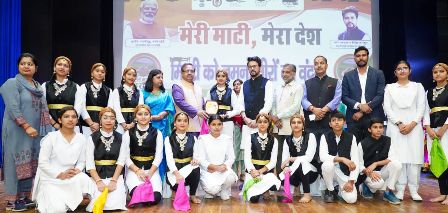 The Union Minister of Information, Broadcasting, Youth and Sports Affairs Anurag Thakur said, "Meri mati mera desh is a unique programme through which brave men and women of India are being honoured by taking panch pran oath to salute them."
Addressing the audience at Motipur in Mandi on Saturday the minister said, "Azadi ka Amrit Mahotsav was celebrated with great fervor in the country and now meri mati mera desh programme is organized to involve every family, every individual and citizen towards making India a great nation."
He said, "Prime Minister Narendra Modi has given a new vision for the country through the programme and invokes the same spirit of sacrifices in developing the country as shown by our freedom fighters in fighting for Independence of India and soil is being collected from every village to build amrit vatikas."
After administering an oath to youths present on the occasion the minister also appealed to them to adopt digital technology.
Recounting the achievements of the NDA government during the present tenure Thakur said, " Nearly 13.5 crore poor people have been able to come out of the poverty line during the tenure of the PM Narendra Modi and India will be the third largest economy in the world in the next three years." .
He said, "India's share in e-payment in the whole world has increased to 46 percent, defense equipments worth Rs 1 lakh crore have been produced in India in the last one year, exports worth Rs 16000 crore have been made during this period and in the next five years, production of defense equipment will double and exports will triple."
The minister said, "During disaster in Himachal, the Central government gave Rs 862 crore to the state in four installments and 11000 houses will be constructed for calamity affected people."
Former Chief Minister Jai Ram Thakur also addressed the youths on the occasion.