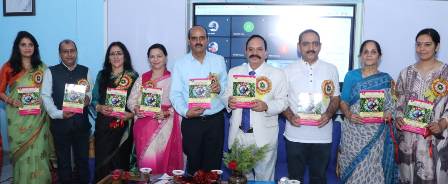 First international conference on Recent Trends in Science and Technology for Environment Conservation and Sustainable Development was organized on September 29 and 30th at Sidharth Government College Nadaun.
The conference was inaugurated by Professor Dr. MK Mattoo, former Head Bio Sciences Department of HPU Shimla.
Dr. Bhagwati Sharma convener of the conference said, "The objective of the conference was to promote cooperation through synergized working of Central and state governments on important issues like climate change and preservation of environment as both are inseparable for human existence; more so since human greed and large scale industrialization has severely affected nature and environment."
The conference deliberated on several issues related to biodiversity, ecosystem management, human health, pollution, global warming, climate change and sustainable development.
The concept of green chemistry, environmental biotechnology and organic farming were also discussed in the conference.
Prof .Dr. Promila Pathak from PU Chandigarh talked about sustainable development, Prof. Dr Shushma Shrarma, Prof. Dr Neeraj Gupta from CUHP and Dr Neelam Matoo from HPU were other speakers in the conference.
Principal of the college Dr Anil Kumar Gautam and guest speakers also planted trees in the botanical garden of the college on the occasion.
Several Professors and foreign experts of various subjects also participated in the conference through virtual mode.