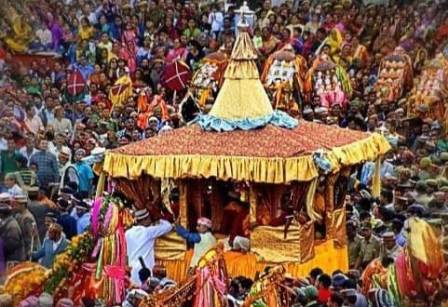 The weeklong historical Kullu Dussehra concluded at Kullu on Monday with the principal deity of the festival Lord Raghunath returning to its temple at Sultanpur and over three hundred deities camping at the festival ground for a week, returning to their abodes.
The chariot of Lord Raghunath was taken back in a procession and thousands of people joined the ceremony to pull the chariot. Before this Lanka Dahan ceremony was held on the banks of river Beas as the part of concluding ceremony.
The Kullu Dussehra is one of the most famous festivals of deities depicting culture, besides a trade fair of this region and lakhs of locals and tourists participate in the festival.
Display of folk culture by dancing troupes in their local costumes representing over two thousand mahila mandals were the main attraction of the concluding ceremony. International cultural troupes from 15 countries also participated in the festival this year.
Speaker of Himachal Vidhan Sabha Kuldeep Singh Pathania was the Chief Guest in the concluding ceremony.
Addressing a gathering on the occasion he announced to increase the honorarium of deities by five percent and that of bajantaris by ten percent.
He said, "The Kullu Dussehra has an old mythological history and presents a unique confluence of historical, social, cultural and religious beliefs of Kullu district and has been celebrated since 1660 AD and playing an important role in preserving and promoting culture and tradition of Kullu district."
He said, "Despite the massive devastation during the last monsoon in Kullu district the state government with the strong willpower of Chief Minister Sukhvinder Singh Sukhu has been able to restore normal activities in the district and every effort was made to organize Dussehra festival in a grand way as the state government is committed to promote the culture and traditions of the state."