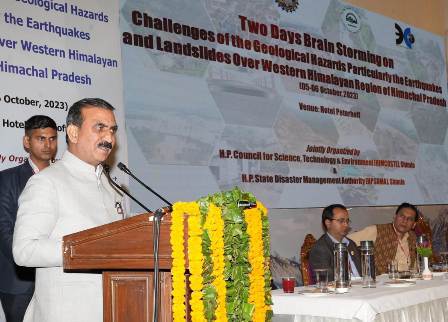 Himachal Pradesh government is considering to enforce stringent laws for construction to keep people safe during natural calamities in the state.
Speaking while inaugurating a two day workshop 'Challenges of the Geological Hazards in Western Himalayan Region of Himachal Pradesh ' at Shimla on Thursday, the CM said , " the government will impose laws while giving permission for constructing buildings , restrict capacity of land for raising structures to withstand its weight, ensure effective drainage system and appealed people to support government's this move."
He said, "In order to minimize the loss of human life and property during natural disasters stringent laws are needed of the hour and a humanist approach has to be adopted for saving lives and preserving ecology and environment by striking a balance between development and nature."
The CM said, "The state had suffered a massive loss during the monsoon season and several precious lives were lost, besides huge loss of public and private property."
He asserted," Human greed and reckless exploitation of our environs are some of the basic reasons for the losses as people have constructed houses near the streams and rivers ignoring principles of structural engineering and there is an urgent need to check this practice ."
"Since Himachal Pradesh falls in the seismic zone and is quite prone to earthquakes we should prepare ourselves for any eventuality and utmost care has to be taken while raising buildings; the Central government has given permission for setting up two Doppler Radars for issuing weather forecast to people in Kinnaur and Lahaul –Spiti districts," he added.

He also emphasized on constructing tunnels to check landslides in hilly regions of the state.
Earlier, Principal Secretary Revenue, Onkar Sharma spoke about the objectives of the workshop.