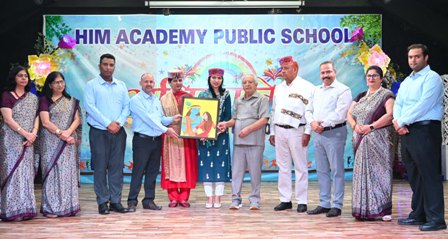 Him Academy Public School organized its annual day function in the school campus at Vikas Nagar (Hamirpur) on Sunday.
Vaishali Sharma (HAS), an alumni of Him Academy Public School, presently BDO Karsog, was chief guest of the function and was accorded a guard of honour by NCC wing of the school on her arrival in the function .
The Chief Guest, Chairperson RC Lakhanpal, Vice chairperson Chander Prabha Lakhanpal, Director Pankaj Lakhanpal, Principal Naina Lakhanpal and Dr Himanshu Sharma, lighted a lamp to start the function.
Principal of the school Naina Lakhanpal in her welcome address welcomed the guests and also highlighted achievements of the school.
Speaking on the occasion the Chief Guest expressed her delight in the school's nurturing culture that fosters holistic student growth, reflecting her personal connection and pride in its heritage. She also recapitulated her cherished memories associated with HAPS during her academic journey.
The Chief Guest also gave away prizes to meritorious students and others excelling in different fields. A large number of parents and guardians of the students attended the function.
A cultural programme with a spectacular sport – themed presentation and an UV Act were other highlights of the function.