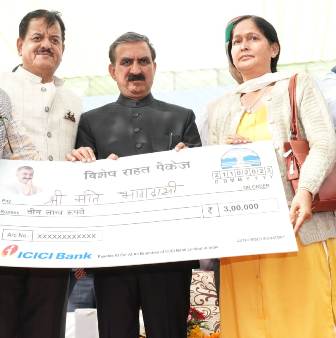 Chief Minister Sukhvinder Singh Sukhu started 'Punrvaas', a rehabilitation initiative of the state government for the disaster affected families on Saturday from Kullu through direct transfer of relief packages.
The CM released Rs. 3 lakh each to 324 affected families of Kullu district amounting Rs 9.72 crore as the first installment through direct benefit transfer, for construction of completely damaged houses in the district."
Speaking on the occasion he said, "The special package will be provided from June 24, 2023 to September 30, 2023 and this drive is being started from Kullu today; though resources of the state government are limited but the spirit to rehabilitate each and every affected person is very high."
He said, "Our government is government of common people and we can better understand their pain and miseries, despite having a whopping debt of Rs 75 thousand crore and Rs 10,000 crore liabilities of the government employees the state government has brought a special relief package of Rs. 4500 crore for the disaster affected families," he added.
The CM said, "When I came here after the disaster, there was no electricity, no water and the roads were badly damaged but the state government could restore normal life here within 48 hours with cooperation of employees and local people and more than 75000 stranded tourists were also evacuated."
Revenue Minister Jagat Singh, PWD Minister Vikramaditya Singh and CPS Sunder Singh Thakur among other dignitaries were also present on the occasion.