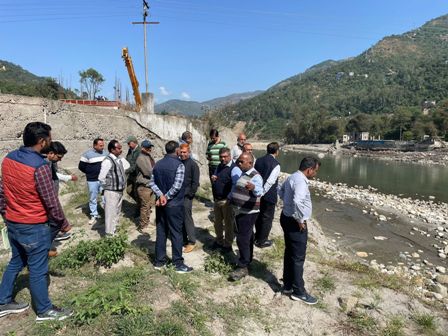 A team of the Central Water Commission visited Pandoh Dam on Wednesday to probe the circumstances in which excess water was suddenly released from the dams during monsoon fury in the state this year.
It is notable the rain fury in the month of August this year had caused huge natural calamity and massive devastation. It was also reported many Dam authorities released heavy discharge of water to flush out silt and excess water in a callous manner without issuing proper warning and taking safety measures.
A massive loss of public and private property was reported due to heavy flow of water in different rivers.
The Central team headed by former Director of the Central Water Commission Harkesh Kumar, Director Hydrology Govardhan Prasad, Director NDSA Chandigarh RS Verma and Divisional Investigating Officer of the Commission Balwant Kumar, is on a tour of Himachal these days to verify the veracity of these reports by visiting the Dam sites i.e. Parvati stage- 3, Pandoh Dam, Malana -2 and Pong Dam.