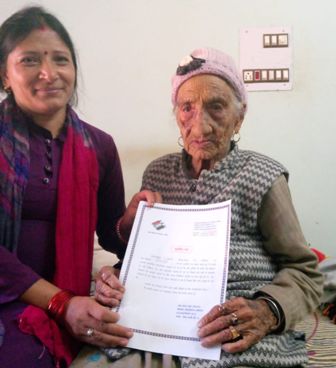 A programme was organized to honour all centenarians of district Mandi on Sunday to observe the International Day for Older Persons.
A district level function was organized by the Social Justice and Empowerment Department and District Red Cross Society Mandi.
Deputy Commissioner Mandi  Arindam Choudhary  Chief guest of the function speaking on the occasion said , " This year's   theme of day is Adapting the Elderly in a Changing World and we must appreciate the contribution of elderly people as only with their blessings and guidance we can achieve high goals in life."
He said, "The blessings and guidance of elders are paramount to move ahead in life and the International Day of Older Persons is celebrated every year on October 1 to honour them and there is need to carry on this tradition from one generation to another."
The DC said, "Senior citizens are the foundation of our society and we can make our life better by learning from their experiences and even seek their help in building a new society."
He emphasized the need to make elderly people digitally literate as this is important to save them from falling prey to online fraud and urged elderly people to take good care of their health by eating balanced food and regular health checkups, besides having an active social life.."
Health workers visited the centenarians by reaching them at their places to honour them.