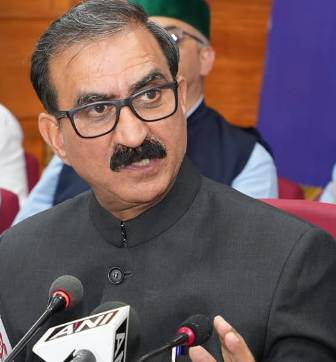 Himachal Pradesh government has announced a special relief package for disaster affected people of the state with a total spending of Rs 4500 crore, out of which Rs750 crore would be spent on restoration , rehabilitation and Rs 1000 crore to generate employment under MNREGA .
Chief Minister Sukhvinder Singh Sukhu while talking to media persons at Shimla on Saturday said, "The compensation for completely damaged house during the natural calamity has been increased by the state government from Rs 1.30 lakh to 7 lakh, for partially damaged house from Rs 4000 to Rs one lakh for kutcha house and compensation to partially damaged pucca house has been increased from Rs 6500 to Rs one lakh".
The CM said, "The compensation of Rs. 25,000 given in case of damage to a shop or dhaba has also been increased to Rs one lakh, the state government would also provide financial assistance of Rs fifty thousand for damage to a cow shed, compensation for loss of cattle has been increased to Rs fifty five thousand per cattle and Rs 60000 for loss of a sheep or a goat," he added.
He said," The state government would give two biswas land in urban areas and three biswas in rural areas for reconstruction of completely destroyed houses and the compensation for damage to agricultural or horticulture land has been increased to Rs 10000 per bigha ."
The CM said, "A relief amount of Rs. 750 crore has been released to the districts under the NDRF and the SDRF to help the disaster affected people and to restore essential services, Rs. 829 crore have been released to Public Works and Jal Shakti departments for reconstruction and restoration of various projects and Rs 671 crore will be released soon, besides taking several other measures."