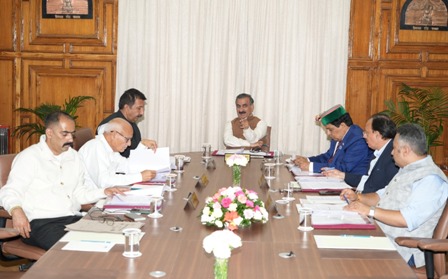 Himachal Pradesh Cabinet has given approval to establish Himachal Pradesh Rajya Chayan Aayog to conduct examinations for the recruitment of various Group-C posts in the state government, PSUs, Boards, Corporations and Local Bodies, replacing HP Staff Selection Commission Hamirpur.
The meeting held at Shimla on Thursday and presided over by Chief Minister Sukhvinder Singh Sukhu also approved Mukhyamantri Laghu Dukandar Kalyan Yojna- 2023 with an allocation of Rs 40 crore under the scheme, roll out third phase of Sadbhawana Legacy Cases Resolution Scheme from October 1 to December 31st settling pending assessment cases and arrears under litigation of GST and establish Single Energy Trading Desk.
It also gave its nod to amend Swaran Jayanti Energy Policy, 2021 in order to manage shortfall of energy during the lean period, increase honorarium of SMC teachers by Rs 2000 per month and enhance honorarium of part time water carriers from Rs 3900 to Rs 4400 per month from April 1st.
The Cabinet decided to fill up 1226 posts of police constables (877 male and 292 female) and 57 drivers, 12 posts of mining inspectors, 24 posts of assistant mining inspectors and 38 posts of mining guards.
It decided to fill up 50 posts of Horticulture Extension Officers in the Horticulture Department, 10 posts of Statistics Assistant in the Economic and Statistics Department, 8 posts of Associate Professors and Assistant Professors in Dr Radhakrishnan Medical College Hamirpur and one post of Assistant Professor in IGMC Shimla.