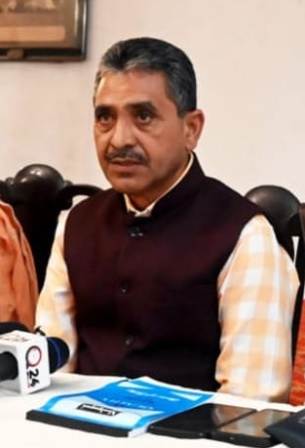 The state spokesman of Himachal Pradesh Congress Committee Prem Kaushal has demanded an apology from BJP leaders for opening educational institutions without infrastructure and adequate staff for political considerations.
In a press conference at Mandi on Friday he said, "The previous BJP government in the state opened so many institutions without proper infrastructure and staff for political considerations and owe an apology from people of the state."
In reply to a question of BJP leaders' apprehension to shut down Sardar Patel University Mandi , he said , " The Chief Minister has already clarified there is no proposal to shut down the university and certain colleges from the University have been disaffiliated due to lack of infrastructure in SPU."
Kaushal also accused the BJP leaders and former Chief Minister for allegedly spreading lies about aid given by the Central government to Himachal for relief and restoration work in the state after recent devastation during monsoon fury.
He said, "Whatever relief and restoration work is being carried by the state government is being done by its own resources except advance installment of natural disaster aid and Rs 186 crore for NDRF but BJP leaders are trying to spread lies about the liberal help from the Central government."
"The maximum damage was done in the Mandi parliamentary constituency and BJP which won nine out of ten Assembly constituencies in the last Assembly election had the moral obligation to seek aid in this hour of crisis but instead of doing this former CM Jai Ram Thakur is everyday making false statements", the Congress spokesman charged.
"The BJP leaders should explain what aid the Central government has given for the state and what difference their leader's visit made to the state after the calamity ?" he added.
Rajender Mohan, Alka Handa – , Councillors of MC Mandi, Congress leaders Surender Bandhu and Rinku Chandel were also present in the press conference.