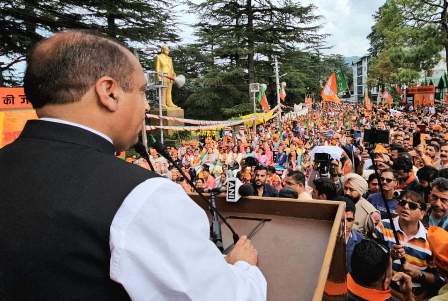 The Himachal Unit of BJP held a protest demonstration at chaura maidan Shimla, attended by party activists on Monday to highlight failures of the Congress government in the state.
Addressing the gathering former Chief Minister Jai Ram Thakur said, "The real face of Congress, which came to power by misleading the public by making false promises and giving guarantees during the last Assembly election, has been exposed before people of the state during the last nine months."
He said, "This government lacks vision and has no priority; they are enjoying power without realizing problems of people of the state and even during the natural calamity when massive devastation was witnessed there was no coordination between the government departments and the CM, Ministers and Congress leaders were seen working in different directions."
He accused, "Instead of genuinely helping the disaster victims, the Congress government's focus remained on controlling political damage and kept on blaming the Central government for not giving enough help, despite the fact the Central government rendered every help to the state government during natural calamity; the ungrateful ruling party is falsely accusing the Central Government of neglecting Himachal," he added.
Thakur said , " Nine months have elapsed but the Congress government has not taken a single decision in public interest and have forgotten to fulfill promises made during the Assembly election, except closing institutions opened by the previous government," he added.
BJP State President Dr. Rajiv Bindal said, "This is first time in the history of Himachal Pradesh after the Congress government came to power even after almost 10 months so much anger has grown among people, which is visible in this rally and blamed the failure of the state government for betraying people as the main reason for the anger."
BJP in-charge of the state Avinash Rai Khanna among other BJP leaders also addressed the rally.