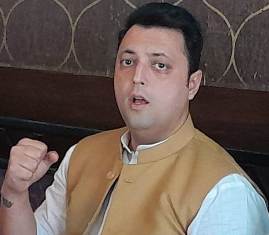 Ashrey Sharma, Congress candidate from Mandi parliamentary constituency during the last election, has blamed lack of long term vision by political leaders of the state for the present state of affairs in Himachal Pradesh.
Sharma, grandson of former Union Communication Minister Sukh Ram, talking to media persons at Mandi on Monday said, "Though several stalwarts of state politics were at the helm of affairs for several decades but vision to develop the tourism industry for Himachal was not prepared."
He said, "Without a proper policy the tourism sector was developed in a haphazard manner and the sector has suffered maximum during the recent flash floods and heavy rains."
Expressing his concern on large-scale devastation in Mandi parliamentary constituency during the recent monsoon fury, he said, "The recent calamity was man made as the National Highway Authority ignored technical advice while cutting hills in an unscientific manner which resulted in escalating the effect of the calamity in the state."
He also targeted certain leaders without naming them for making Mandi as a center of 'political tourism' and also blamed them for unplanned construction in Mandi.
He appealed to all politicians to work in unison with a long term vision for development and also demanded a package from the Central government for the state.