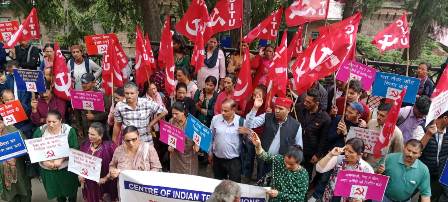 Protests by a united forum of trade unions and national federations throughout Himachal Pradesh at district levels were held on Wednesday against the alleged anti people policies of the Central and the state government.
Hundreds of workers marched through bazaars of Shimla, Mandi, Hamirpur, Kullu, Chamba , Una and other districts raising slogans against the policies of the Central and the state government carrying banners and placards.
The state CITU president Vijendra Mehra and secretary Prem Gautam said, "The Modi government at the Center is adopting new liberal and pro capitalist policies which had led to large scale poverty, hunger, unemployment and social discrimination, PDS system has been weakened and skyrocketing prices of essential items petrol, diesel, fruits, vegetables and food grains have made the life of poor people miserable."
The leaders addressing the rallies demanded abrogation of four labour codes, forming a policy for outsourced employees and reemploy retrenched workers, to check prices rise, to fix a minimum wage of Rs 26000 per month for employees working in public sector undertakings, scrapping electricity bill and stop privatization of PSUs, besides several other demands related to working class and farmers and employees.
Trade union leaders Vijendra Mehra, Prem Gautam, Dr Kashmir Singh , Bhupinder Singh, Kissan leader Dr Onkar Shad and Dr Kuldeep Tanwar, Joginder Kumar and several other leaders addressed the rallies.