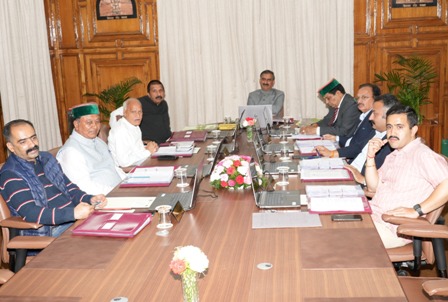 The State Cabinet expressed grief over massive loss of government and private property and paid tributes to people losing lives during the recent flash floods and landslides in the state.
The meeting presided over by Chief Minister Sukhvinder Singh Sukhu decided to amend Swaran Jayanti Energy Policy by singing new MOU for Hydro projects for 40 years, fix royalty on power generation as 15 percent for 12 years, 20 percent for next 18 years and 30 percent for the remaining 10 years of the project; thereafter projects shall be reverted back to the state government.
It also decided to withdraw the relaxation given for staggered free power royalty to SJVNL and NHPC for 210 MW Luhri Stage-I, 66 MW Dhaulasidh, 382 MW Sunni Dam and 500 MW Dugar Hydro Electric Projects with immediate effect.
The Cabinet decided to rationalize the tariff of water cess to be charged from the Hydel Power Projects, enhance financial assistance to Rs 2 lakh for widow remarriage, increase support price for apple, mango and other citrus fruits which will now be Rs 12 per kg for apples, kinnow, malta and mangoes, where as support price for galgal and lemon would be Rs 10 per kg.
It decided to enhance the honorarium of mid day meals schemes for cooks and helpers by Rs 500 per month from April 1, 2023 , MGNREGA daily wage from Rs 224 to Rs 240 from August 15. Include sanitary workers in Ayushman Bharat scheme, fill up 874 posts of different categories in next five years in revenue department, fill up 48 posts in tourist police stations set up on Kiratpur – Manali four lanes and fill up 35 posts of JOA in rural development department.
The Cabinet gave its nod to standard operating procedure (SOP) for enumeration, marking, extraction and disposal of salvage trees from the forest land and SOP for hiring e-taxis by government departments, board and corporations.