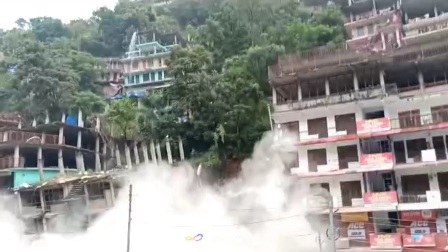 Four multistoried buildings crumbled like houses of cards in Ani bazaar (in Kullu district) on Thursday morning. Fortunately there was no loss of human life as the buildings were declared unsafe by local administration after cracks had appeared in the buildings.
The offices of Kangra Central Cooperative Bank and State Bank of India were located in the buildings but the offices were shifted from there after observing cracks.
SDM Ani Naresh Verma said, "The local administration had declared these buildings unsafe when cracks appeared in the buildings and unfortunately the buildings collapsed today morning; however there was no loss of human life as they were vacated after declaring these unsafe; three more buildings behind these have been declared unsafe."
Meanwhile two more bodies were recovered today from the rubble at Shiv Baoli in Summer Hill (Shimla) where twenty one persons were buried after a flash flood. The body of Pawan Sharma and a four year old girl was recovered from the rubble by rescue teams on Thursday, taking the death toll to 20 .