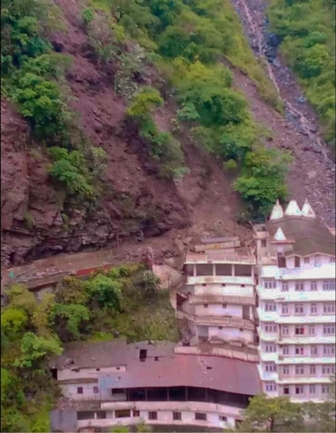 At least five persons have lost lives in Mandi district during the past twenty four hours due to heavy rain, landslides and flash floods while two persons are missing.
Several buildings including school buildings have been damaged; two national highways i.e. Chandigarh – Manali and Pathankot – Manali have been blocked due to landslides at many places, besides almost all roads linking the district headquarter remained blocked on Wednesday due to landslides at different places.
Nok Singh (24) died in a flash flood near Kuklah under Bahli Chowki subdivision while three persons Vijender Singh, Ghanshyam and Tej Singh were rescued.
In village Dagail of Thunag sub division Parmanand (40) and Gopi Devi (15) have died after their house collapsed ,while a young girl Mamta (17) and Puran Devi (46) are still buried under the slush.
In Gohar sub division Teja Ram of village Majhot also died after being buried under debris of his house , while Lakshmi Devi of village Sanglehad (Kataula) lost her life after being buried under debris of her house.
At least 24 people have died in Mandi district during the past ten days due to rain fury.