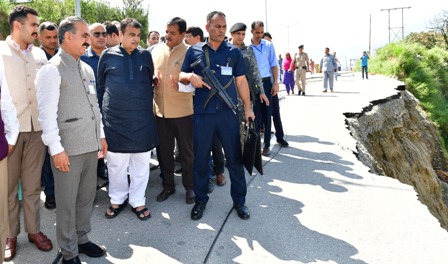 ( Union Minister Nitin Gadkari and HP CM taking stock of damages during the recent floods )
Union Minister for Road Transport and Highways Nitin Gadkari took stock of the losses occurred during the recent monsoon fury in Kullu and Manali area on Tuesday.
Accompanied by HP Chief Minister Sukhvinder Singh Sukhu, the Union Minister visited flood affected areas of Bada Bhuyian, Deodhar, Shirad, Klath and potato ground Manali to interact with affected people.
Later, talking to media persons the Union Minister assured, "The Central government will extend all possible help to the affected people and the state government for restoration work."
He said, "People have suffered huge losses and the situation is worse than the imagination of the Central government as extensive damage to roads , bridges, government and private  property has occurred due to flash floods and cloud bursts."
The minister said, "The Union government would release Rs 400 crore under Central Road and Infrastructure Fund for the restoration work and the National Highway Authority of India (NHAI) would bear the cost of repairing link roads up to one kilometer along the National Highway in apple belt, a team would soon visit the area to take stock of the losses. ."
He said, "A large tract of the National Highways has been swept away with flow of river water, a technical team would study causes for the huge losses and the NHAI would also take measures like channelization of river Beas, construction of concrete walls , besides looking into other peculiar problems of this hilly region."
Addressing the media person the CM said, "This is for the first time natural disaster of such a magnitude has occurred and appealed the Central government to extend help to HP government generously to beef up restoration work in the affected areas, he thanked Mr. Gadkari for visiting the affected areas and appealed former CM Jai Ram Thakur to support the state governments in this hour of crisis"
Former CM Jai Ram Thakur, Public Works Minister Vikramaditya Singh and CPS Sunder Singh Thakur also accompanied the Union Minister.