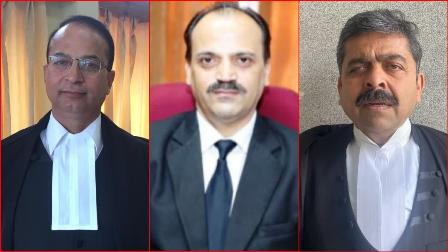 Ranjan Sharma, Bipin Chander Negi and Rakesh Kainthla were sworn in as the Judges of the Himachal Pradesh High Court on Monday.
Himachal Pradesh Governor Shiv Pratap Shukla administered the oath of office to the newly appointed judges at Raj Bhawan Shimla.
The proceedings of the oath ceremony were conducted by Chief Secretary Prabodh Saxena.
The Union Ministry of Law had recently approved the appointment of the three judges on the recommendation of the Collegiums of the Supreme Court of India.
Chief Minister Sukhvinder Singh Sukhu, former CM Jai Ram Thakur, several Cabinet Ministers, Chief Justice of Himachal Pradesh High Court Justice MSR Ramachandra Rao among other dignitaries were present on the occasion.
Justice Ranjan Sharma, born on August 21, 1968 hails from Dharamshala; he did his Law degree from Rohtak University. He started practicing in HP Court in 1991 and also remained Additional Advocate General in 2008 and 2018.
Justice Bipin Chander Negi belongs to Kinnaur district and did his schooling from St. Edward School Shimla. He obtained his LLB degree from HPU Shimla, started practicing in HP High Court in 1994 and was designated as a senior lawyer in 2015.
Justice Rakesh Kainthla, born on May 23, 1968 hails from Shimla district , had his education in Shimla and started practicing in HP High Court after doing LLB from HPU Shimla in 1991. He joined HP Judicial services in 1995 and was appointed Additional District and Session Judge in 2010. He was posted as District and Session Judge Mandi before his elevation as a High Court Judge.