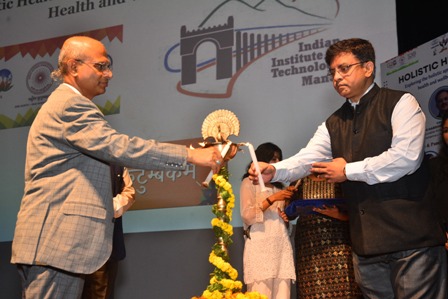 One day conclave on Holistic Health as part of G20-G- Science meet being organized at IIT Mandi has emphasized on sustainable and holistic approach to life and human health.
Majority of the experts talked about integrating our ancient wisdom with modern research in view of a large number of mental stress issues.
Dr. Laxmidhar Bahera, Director of IIT Mandi, highlighted the IIT Mandi's initiative of combining ancient wisdom with scientific research to develop a holistic science of psychology that goes beyond traditional sciences.
He said, "IIT Mandi will have Rs 40 Crore Ayurveda Wellness Centre in the next two years. The center will provide healthcare based on the sustainable principles of India's ancient Ayurvedic tradition to the students, faculty, and staff and others, besides researchers are delving into the enigmatic nature of the mind and its relationship with the body", Dr Bahera added.
IIT Mandi incorporates interventions from Indian knowledge systems such as yoga, meditation, prayer, and performing arts to enhance cognition, attention, and cope with stress, disorders, and anxiety. "The idea behind these interventions is to create a happy, healthy, and creative world", Dr Behera said in his keynote address at the holistic health conclave of the G-20 S-20 Meet organized at IIT Mandi.
Prof. Prem Vrat, the Chairperson of the Board of Governors at IIT Mandi, shared his personal experience from a holistic health center and emphasized the significance of considering health in its entirety.
He mentioned a thought lab at North Capino University, Gurgaon, where positive thoughts are nurtured to enhance peace of mind and overall well-being.
The efforts made by IIT Mandi align with their vision of integrating ancient wisdom with empirical research and promoting holistic approaches to health and well-being. Their aim is to address the growing physical and mental health issues faced by individuals in the country.
Talking about 'generic spirituality', Dr. Ajay Sankhe, director of Bhaktivedanta Hospital and Research Institute, emphasized the pivotal role of positive thinking and mental well-being in holistic health.
Dr. Rama Jayasundar, a professor from AIIMS, New Delhi, highlighted the relevance of Ayurveda, the ancient system of medicine. She advocated for a harmonious balance of Vyu, Kapha, Pitah (VKP) and Sattas, Rajas and Tamas temperaments for a new model of health care.
The conclave also featured experts discussing various aspects of holistic health, including the theoretical framework of Sankhya philosophy, intersectoral coordination in mental health, leveraging digitalization for healthcare management, and the significance of intrinsic motivation for positive change.
The conclave concluded with a vote of thanks by Dr. Arnav Bhavsar, co-coordinator of the Holistic Health Conclave.