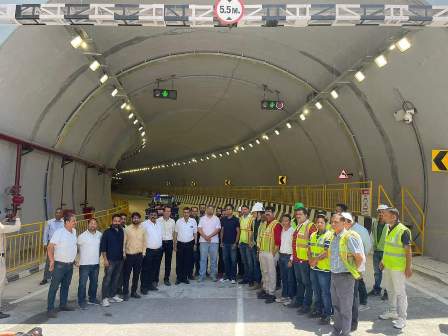 The National Highway Authority of India (NHAI) carried out a successful trial of five tunnels constructed on Kiratpur – Manali National Four Lane Project between Hanogi and Jhalogi.
Deputy Commissioner Mandi Arindam Chaudhary said, "The trial of five tunnels was carried out jointly by the NHAI and Mandi district administration after a tweet by Union Roads and Highway Minister Nitin Gadkari recently."
The Union Minister has tweeted, "The five tunnels between Hanogi and Jhalogi would be opened soon for traffic."
The work on Kiratpur- Manali Four Lane project is in the final stage and the minister is regularly monitoring the work to open the Highway for traffic soon. After completion of the project travel between Kiratpur – Manali would be smoothen and reduce the travel time by several hours to Manali, very popular with tourists. It is also a strategically important route connected to the Leh and China Border.
The DC said, " The road between Hanogi and Jhalogi is quite prone to landslides and sometime become dangerous during the rainy season; the Beas river also flows close to the Highway and many time water start flowing on the road leading to traffic disruption, the tunnels would be of great help," he added.
He said, "Regular review meetings are being held by the district administration and the NHAI officials to complete the project at the earliest."
The NHAI Project Director NHAI Varun Chari and various officials were present on the occasion.