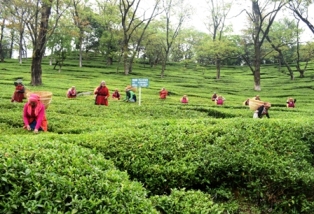 The Kangra tea has become the second product of the country to get Geographical Indication (GI) registration from the European Union.
The registration with the European Union (EU) as a protected Geographical Indication (GI) has paved the way for the sale of the product in European countries.
Chief Minister Sukhvinder Singh Sukhu said, "The GI tag for the Kangra tea is important as it recognizes the quality, authenticity and reputation of the tea in European Markets, giving a boost to its sale in the European markets, benefiting tea growers of Kangra, Mandi and Chamba districts."
The growers in tea gardens of Palampur, Baijnath, Kangra, Dharamshala in Kangra district, Jogindernagar in Mandi district and Bhattiyat area of Chamba district are marketing their produce in national and international markets.
The Kangra tea known for its unique taste and fragrance was given GI tag in 2005 by Registrar GI, Chennai and has recently been also registered with the European Union giving it an international GI tag.
The CM said, "The state government is making efforts to preserve the traditional products of the state and launched schemes to benefit artisans and GI tag has been given to nearly 400 traditional products like Kullu and Kinnauri Shawls, Chamba rumal, and Kangra paintings etc. "
He appreciated the efforts of Himachal Pradesh Science Technology and Environment Council (HIMCOSTE) for the registration of Kangra tea with the European Union.