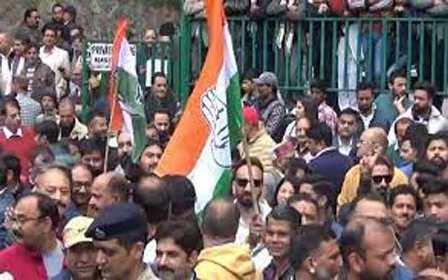 The Congress has once again proved its mettle in Shimla, the capital of Himachal Pradesh, by sweeping Municipal Corporation (MC) Election, results of which were declared on Thursday .
Further consolidating the position of Chief Minister Sukhvinder Singh Sukhu, who took oath on December 11, 2022, the Congress candidates won in 24 of 34 MC wards, BJP despite being in power in Shimla MC could win in 9 wards, while CPM candidate has retained its traditional stronghold in Summer Hill MC ward.
While victory in Shimla MC Election is a booster for the Congress party which had returned to power by winning 40 Assembly seats after defeating BJP, it is a personal triumph for the CM, as he had remained councilor in Shimla MC twice and this was first litmus test of popularity of his government.
Shimla MC Election has come as a big disappointment for BJP as the party tried very hard to regain the confidence of voters after losing power in the last Assembly election in 2022.
The candidates who have been declared elected by State Election Commission are:
Ward no 1-(Bharari) Meena Chauhan (BJP)
Ward no 2- (Rudlu Bhatta) Saroj Thakur (BJP)
Ward no 3 (Kaithu) Kanta Suyal (Congress)
Ward no 4 (Annadale) Urmila Kahsyap (BJP)
Ward no 5 (Summer Hill) Virender Thakur (CPM)
Ward no 6 (Tutu) Monika Bhardwaj (Congress)
Ward no 7 (Majyath) Anita Shrama (Congress)
Ward no 8 (Boilu Ganj) Dalip Thapa (Congress)
Ward no 9 (Kachi Ghatti) Kiran Sharma (Congress)
Ward no 10 (Tutikandi) Uma (Congress)
Ward no 11 (Nabha) Simi Nanda (Congress)
Ward no 12 (Phalgli) Kalyan Chand Dhiman (BJP )
Ward no 13 (Krishna Nagar) Bittoo Kumar (BJP)
Ward no 14 (Ram Bazaar) Sushma Kuthiala (Congress)
Ward no 15 (Lower Bazaar) Umang Banga (Congress)
Ward no 16 (Jakhu) Atul Gautam (Congress)
Ward no 17 (Benmore) Shinam Kataria (Congress)
Ward no 18 (Engineghar) Ankush Verma (Congress)
Ward no 19 (Sanjauli Chowk) Mamta Chandel (Congress)
Ward no 20 (Upper Dhali) Kamlesh (BJP)
Ward no 21 (Lower Dhali) Vishakha Modi (Congress)
Ward no 22 (Shanti Vihar) Vineet Sharma (Congress)
Ward no 23 (Bhatta Kuphar) Narender Thakur (Congress)
Ward no 24(Sangati) Kuldeep Thakur (Congress)
Ward no 25 (Malyana) Shanta Verma (Congress)
Ward no 26 (Pantha Ghatti) Kusum Thakur (BJP)
Ward no 27 (Kasumpti) Rachna Jhina (BJP)
Ward no 28 (Chhota Shimla) Surender Chauhan (Congress)
Ward no 29 (Vikas Nagar) Rachna Bhardwaj (Congress)
Ward no 30 (Kangna Dhar) Ram Rattan Verma (Congress)
Ward no 31 (Patyog) Asaha Sharma (BJP)
Ward no 32 (New Shimla) Nisha Thakur (BJP)
Ward no 33 (Khalini) Chaman Prakash (Congress)
Ward no 34 (Kanlog) Aalok Pathania (Congress)