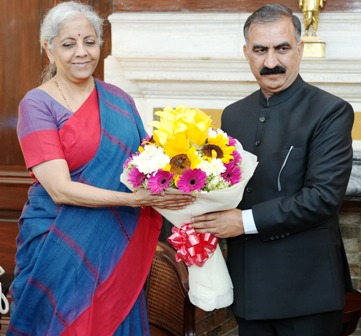 Chief Minister Sukhvinder Singh Sukhu has urged the Union Finance Minister Nirmala Sitharaman to review the decision of imposing a limit on seeking new loans under externally aided projects.
The CM after meeting the finance minister at New Delhi said, "Reconsidering the decision would help the state in carrying development in various sectors and sought her intervention for expediting the signing of loan agreements of six proposals recommended by the Department of Economic Affairs for external funding".
He also requested the Central government to grant Rs 1000 crore for Greenfield Airport Project Balh (Mandi) and Rs 400 crore for expansion of Kangra Airport as per recommendations of 15th Finance Commission.
The CM also urged to review the decision to reduce the additional borrowing limit of the state equal to the amount of the National Pension Scheme (NPS) contribution for the current financial year and fully finance Bhanupali – Bilaspur- Leh railway project keeping in view its strategic importance.