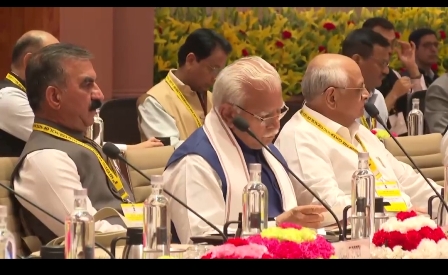 Himachal Chief Minister Sukhvinder Singh Sukhu has urged the Central government to issue directions to Pension Fund Regulatory and Development Authority (PFRDA) to return the amount of Rs 9,242.60 crore deposited under the New Pension Scheme (NPS) by the State Government.
Attending the meeting of the 8th Governing Council of NITI Aayog at New Delhi on Saturday while raising the issues concerning the state in the meeting the CM also urged the Central government not to reduce the previous year's deposit of Rs 1,779 crore under NPS than the borrowing ceiling of the current financial year.
The meeting chaired by Prime Minister Narendra Modi held discussions on infrastructure and investments, Micro, Small & Medium Enterprises (MSMEs), minimizing compliances, women empowerment, health and nutrition, skill development, Gati Shakti for area development and social infrastructure.
The CM also urged for removing the limit of receiving external aid for the next three years for the state and sought intervention of the Central Government for speedy approval of proposals submitted to the Department of Economic Affairs, besides 100 percent central funding for the strategic Bhanupali-Bilaspur-Leh railway line.
He also requested for including ropeway projects under 'Pradhan Mantri Grameen Sadak Yojna' besides demanding special financial assistance for completing the construction of medical colleges in the State, besides providing option of CAPEX model (Capital expenditure) along with OPEX model (Operational expenditure) under the financial assistance provided by Government of India for purchasing e-buses..
The CM also elaborated various initiatives being taken by the state government for developing the state as 'Green Energy' state and developing tourism under the concept to protect and preserve its environment.