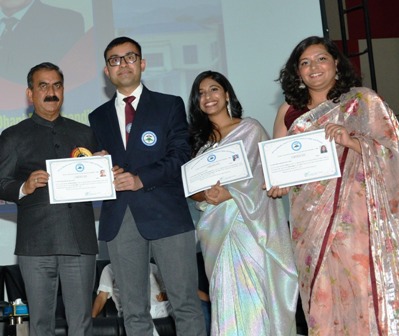 Himachal Pradesh Chief Minister Sukhvinder Singh Sukhu said, "The state government is introducing robotic surgery in Shimla, Tanda, Nerchowk and Hamirpur Medical Colleges, besides latest PET and CT scan facilities would be provided at  Shimla and Tanda."  
Addressing the audience after giving degrees and internship certificates to first batch students of MBBS in annual convocation function at Shri Lal Bahadur Shastri Medical College Ner Chowk on Sunday the CM said, "World-class facilities would be available in the medical colleges of the state in the coming times and a modern cancer hospital would be set up at Hamirpur."
Congratulating the newly passed out doctors the CM said, "The doctors are facing a challenge today due to saturation in the profession but hoped they would meet the challenge with their hard work and assured them the state government is working to provide them job opportunities in the government sector."
He said, "The state government is creating a department of emergency medicine in which medical and paramedical staff will work in eight-hour shifts to strengthen Emergency Services, besides, keeping the medical staff fit".
The CM said, "The state's economy would be brought back on track in next four years with the cooperation of the people of the state but for this tough decisions will have to be taken".
He said, "IGMC Shimla has given the best doctors in the country and are providing services in top medical institutions of Delhi.
A cultural program was also presented by the students of the college on the occasion.
Later, presiding over the Silver Jubilee function of the Himachal Medical Officers Association organized at Dev Sanskriti Sadan Mandi, the CM lauded the efforts of doctors and healthcare workers in serving society and said, " the state government has implemented radical reforms in the medical field and the results would be visible in a year to come".
Health and Family Welfare Minister Dr. (Col.) Dhani Ram Shandil and several other dignitaries remained present on the occasion.