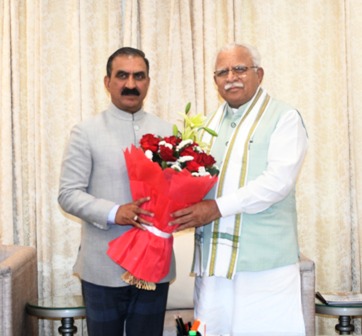 Chief Minister Sukhvinder Singh Sukhu met his Haryana counterpart Manohar Lal Khattar at Chandigarh on Saturday and held discussion with him on different issues.
During the discussion the HP CM said, "The water cess levied by the state government on hydro power generation in the state would not result in any loss to Haryana as it would be put on the power generated in Himachal by 172 hydro power projects."
The two CMs also discussed the issues related to Renuka dam projects and Kishau hydropower projects being implemented jointly by Himachal, Haryana and Uttrakhand.
The HP CM said, "Inordinate delay in implementing various projects lead to increase in cost and the objective of giving benefits to people is also delayed, and asked officers of the two states to resolve such issues after holding discussion ."
He invited Haryana to invest in hydropower projects and green hydrogen in the state as investment in Himachal would prove beneficial for both the states.
Haryana Chief Minister said that hydropower projects are environment friendly, besides meeting the requirements of the future and assured to consider the investment proposal.