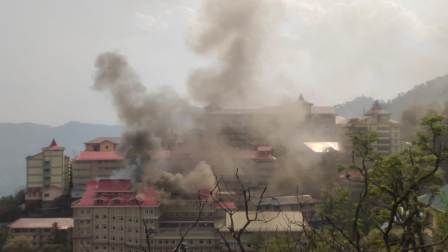 A fire broke out at the Indira Gandhi Medical College Hospital (IGMC) here on Thursday after two cooking gas cylinders exploded in the cafeteria, leading to the evacuation of hundreds of patients from the New OPD building.
The fire has caused a loss of over Rs 60 lakh but hundreds of patients present in the building were evacuated safely.
Medical Superintendent of the IGMC Dr Rahul Rao said, "The fire in the building was reported at about 8.30 am after which fire tenders were called to quell the fire."
He said, "The fire perhaps started from a leaking LPG cylinder in the canteen resulting in blasts in LPG cylinders; no causality has been reported but a loss of over Rs 60 lakh has been reported as per preliminary estimate."
"The column of smoke from the building was visible from far away, the two blasts took place in quick succession, triggering panic', said an eye witness.
A case has been registered against the canteen operator of the OPD building, said an official.