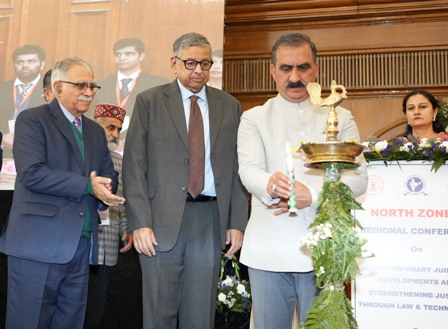 Chief Minister Sukhvinder Singh Sukhu has emphasized the need of use of technology to bring transparency, productivity and efficiency in the judicial system.
Addressing a gathering after inaugurating North Zone –II Regional Conference on 'Contemporary Judicial Development and Strengthening Justice through Law and Technology, at Shimla on Saturday the CM also stressed on use of technology in making life easier for the common man.
He said, "With inclusion of modern technology, the functioning of the judiciary could be maintained during the COVID -19 pandemic when virtual hearings proved very helpful, saving money and time of litigants."
The CM said, "A reliable and speedy judicial system is essential for a healthy, self-confident society and development of the country; when justice is seen being delivered the faith of the common man in the constitutional institutions gets strengthened," he added.
He said, "Delay in delivering justice is one of the biggest challenges being faced by the country and the judiciary should seriously work to solve this problem and alternative means of dispute redressal should also be adopted."
He expressed hope that the conference would go a long way in deriving new ideas and pave the way for legal reforms in India to provide speedy justice to people.
"We the people, being the basic spirit and fundamental feature of the Indian Constitution and our Democracy , it is important that the three pillars of the Indian Democratic system operate in their respective domains, working for the prosperity and harmony of our society", he added.
Earlier, Acting Chief Justice of the High Court of Himachal Pradesh Justice Tarlok Singh Chauhan in his welcome address said, "Judiciary being an important pillar of the state plays a vital role in shaping and interpreting the Constitution and the conference is deliberating on development of technology including artificial intelligence, crypto-currency, information and communication technology in the Courts".
Director, National Judicial Academy Bhopal, Justice AP Sahi, Judges of Supreme Court, Justice Sanjay Karol, Justice, and Aniruddha Bose also spoke on the occasion. Justice Vivek Singh Thakur presented the vote of thanks.
The two-day conference is being organized by National Judicial Academy Bhopal and HP High Court jointly and is being attended by approximately 160 Judges from the Supreme Court of India, various High Courts and Subordinate Courts of Delhi, Punjab, Haryana, Uttar Pradesh, Jammu & Kashmir and Ladakh