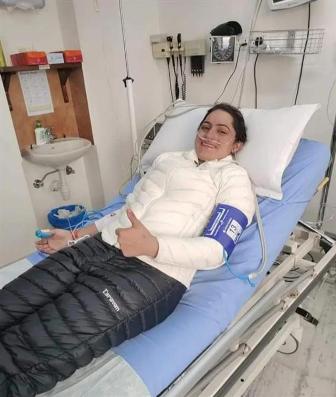 Ace mountaineer Baljeet Kaur, has been brought back safely from Mt. Annapurna (Nepal) and stated to be fine. Baljeet Kaur is an international level mountaineer and hails from Solan district. She has scaled Mt. Everest and other difficult mountains.
Unfounded reports of "her losing life" in a mountain expedition were circulated on a few social media sites on Tuesday morning after she went missing during the expedition.
Chairman of Pioneer Adventure Pasang Sherpa, after her rescue said, "Baljeet Kaur, who had gone to scale Mt. Annapurna without oxygen and had gone missing, was found alive by an aerial search team at camp IV and was brought back on Tuesday morning", as quoted by Himalaya Times.
He said , " Baljeet Kaur was descending alone towards camp IV , had lost contact as the summit point remained out of radio contact ; but she managed to send a message to an aerial search team after which three helicopters were deployed to rescue her and was traced near camp IV."
Her location was indicated at an altitude of 7353 meters (24193 ft) and rescued by the aerial search team and was treated in hospital at Kathmandu. Another Indian climber Anurag Maloo has still not been traced.