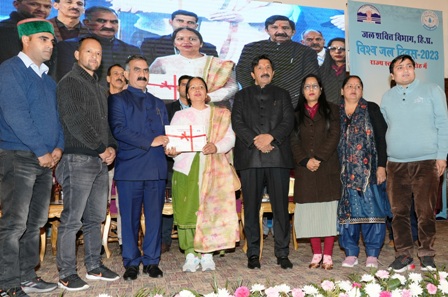 Chief Minister Sukhvinder Singh Sukhu emphasized on bringing a behavioral change in water usage and its management and there is need to save the Blue for conserving the Green.
Speaking at a state level World Water Day function at Shimla on Wednesday he said, "According to a report forty percent of the population would experience shortage of drinking water by 2030 and we need to conserve the water."
The CM said, "The World Water Day is all about accelerating change to solve the water and sanitation crisis because water affects us all and we need immediate action to conserve it and create awareness about its importance in life."
He said, "Due to adverse effects of climate change leading to scanty or untimely rain and snow has resulted into drying up of water sources which is a matter of serious concern and every section of society needs to work together to conserve and save water sources ."
The CM said, "In times to come water of our rivers can be an asset of revenue generation but for that we need to adopt green measures to minimize the impact of global warming on the Himalayan glaciers and our ecosystem".
Speaking on the occasion Deputy Chief Minister Mukesh Agnihotri also emphasized the need of protecting sources of drinking water as conserving them is collective responsibility of the society and the state government.
The Chief Minister also facilitated representatives of 50 Gram Panchayats of nine districts, block resource coordinators, besides village water and sanitation committees.