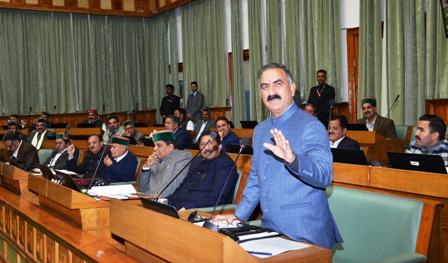 The second day of Himachal Assembly's Budget session also started with a stormy note as members of the opposition BJP pressed for a discussion on closure of 632 institutions opened by the previous BJP government in the state.
The BJP members brought an adjournment motion under rule 67 demanding discussion on the issue. The Speaker Kuldeep Singh Pathania allowed the discussion after seeking consent of Chief Minister Sukhvinder Singh.
Initiating the discussion Poanta MLA Sukh Ram Chaudhary said, " The previous BJP government did not get a chance to open many of these institutions during the COVID period and opened these to provide basic amenities to people keeping larger public interest in mind but the present government after coming to power has de-notified 632 institutions."
Raising issue of withholding MLA development fund (vidhayak nidhi) Churah MLA Hans Raj had heated exchange with the members of the treasury bench and threatened to sit on dharna and resort to "fast unto death," if the development fund is not restored by the government.
Replying to the motion Chief Minister Sukhvinder Singh Sukhu said, "Demanding discussion under rule 67 by the opposition members has become a routine and the opposition MLAs are misusing it, since the state government has clear stand it is prepared to discuss every issue raised by members of the house under rules."
Congress MLA Rajesh Dharmani said, "The opposition members have brought the adjournment motion to hog the limelight and make political gains. After losing four by-elections in the state in 2020 the BJP government had opened a large number of institutions without justification and budgetary provisions in desperation to befool people."
He said, "Himachal Pradesh Electricity Board is in loss of Rs 1800 crore but still the BJP government opened 33 Divisions within 6 months when there was a shortage of 10000 field staff."
Speaking against the motion Congress MLA from Badsar Inder Dutt Lakhnapal lashed out at the previous government and said, "Why the BJP government take so much laon despite running a double engine government in the state and why couldn't it bring any economic package for the state from the Central government ? "
He said, "The state government has been forced to bring certain tough decisions to control the economic situation."
In his reply the CM said, "The opposition members have moved an adjournment motion without bringing facts; they did not state why budgetary provisions were not made before opening these institutions, in some of the schools not even two students attended the school while five teachers were appointed", he added.