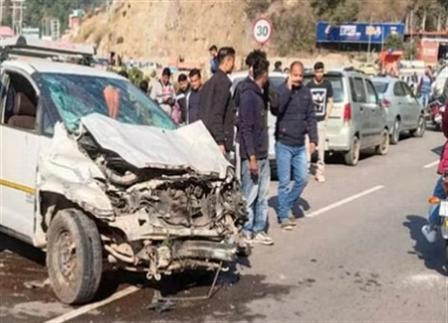 Nine migrant labourers were crushed by an Innova driver near Dharampur in Solan district on Tuesday morning killing five of them on the spot and seriously injuring four others.
The incident occurred at about 10 am in the morning on Solan –Parwanoo national highway, when a driver of a taxi Innova (HP2A1540) coming from the Solan side lost control of the vehicle and crushed nine persons who were walking on the road.
A police source said , " Nine migrant labourers were walking on the road when a rashly driven Innova hit them near Dharampur at about 10 am, five of these Guddu Yadav , Raja Ram , Nippu Yadav and Moti Lal ( all hailing from Champaran district of Bihar) and Sunny from Uttar Pradesh died on the spot , four others i.e. Mahesh, Subhash , Babu Deen and Aditya ( all from Bihar) have been injured," he added .
One of the seriously injured has been taken to PGIMER Chandigarh while three of the injured are being treated at Dharampur hospital.
Chief Minister Sukhvinder Singh Sukhu and Deputy Chief Minister Mukesh Aagnihotri have expressed deep grief over the accident and sent heartfelt condolences to the family members of the victims. The state government has directed the local administration to provide medical and other help to victims.
Health and Social Justice Minister Dr Dhani Ram Shandil visited the place of the accident and went to the hospital to meet the injured .