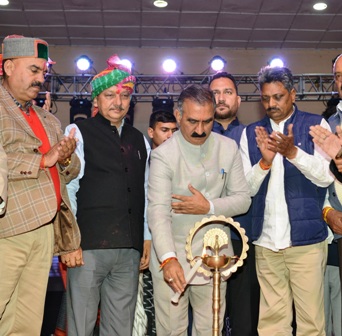 Chief Minister Sukhvinder Singh Sukhu announced the construction of a new bus stand at Sujanpur and said, "Himachal would become the country's most prosperous state in the next ten years ".
Addressing a gathering after inaugurating the cultural evening of Sujanpur holi festival on Sunday evening, the CM greeted people on the occasion and said, " Festivals are symbols of our fraternity, tradition and cultural tradition and the present generation should pass on these to the next generation to preserve these."
He also announced to increase the bed capacity of Sujanpur civil hospital to 100 beds and create modern facilities, announced to open a degree college at Tauni Devi and starting English and economics classes in Sujanpur college , besides opening division of Jal Shakti department and Electricity Board at Sujanpur.
The CM said , " Eighteen Rajiv Gandhi day Boarding Schools would be opened in the next financial year in the state which land has been identified and every Assembly segment would have such schools having all modern facilities ."
He said , " While taking new strides the state would have to stick to a strict discipline and take a few stringent measures to overcome the financial mess created by the previous BJP government of the state."
" A world class Cancer Hospital would be constructed at Jol Sappad soon and robotic surgery would be introduced in Hamirpur Medical College", he added.
Local MLA Rjinder Rana , Badsar MLA ID Lakhanpar, Bhoranj MLA Suresh Kumar among others were present on the occasion.