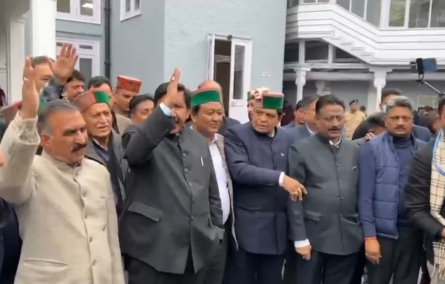 The Congress MLAs in Himachal Pradesh Assembly staged a demonstration in the Assembly premises on Friday to protest disqualification of Rahul Gandhi from the membership of the parliament, after his conviction and imprisonment for two years by a Surat Court in a defamation case.
The Congress MLAs, Cabinet Ministers led by Chief Minister Sukhvinder Singh Sukhu and Deputy CM Mukesh Agnihotri raised slogans during lunch hours against the Modi government condemning the action and rendered support to their leader.
The Lok Sabha secretariat on Friday morning had 'disqualified Rahul Gandhi member of Lok Sabha elected from Wayanad parliamentary constituency from the membership of the Lok Sabha from the date of his conviction on .i.e. March 23, 2023 in terms of provisions of Article 102(1) (e) of the Constitution of India read with section 8 of the Representation of People's Act 1951."
A court of Judicial Magistrate Surat (Gujarat) had convicted Rahul Gandhi for two years imprisonment in a criminal defamation case on March 23.
The Chief Minister said, "Rahul Gandhi has been convicted under a conspiracy as the Modi government is perturbed after the success of the Bharat Jodo Yatra and his exposure of alleged nexus between the Modi government and Adani."
He said, " The government and BJP are trying to defame him but Rahul Gandhi is not scared of such conspiracies as the entire Congress party and people of India are behind him; the Gandhi family has a long tradition of sacrificing their lives for defending the unity and integrity of India."
Deputy Chief Minister Mukesh Agnihotri and HP Congress Committee President Pratibha Singh have also termed the move unfortunate and have extended support to Rahul Gandhi saying "The Congress party in Himachal is standing like a rock behind Rahul Gandhi in this hour of crisis."