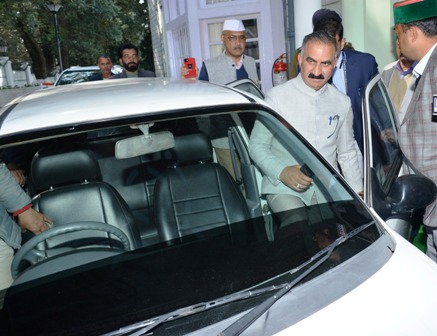 The Budget session of Himachal Pradesh Assembly began with a stormy note with the opposition BJP MLAs staging a walk out demanding discussion on withholding of MLA development fund (vidhayak nidhi) .
As soon as the session began after paying obituaries, BJP MLA Vipin Pramar raised the point of order by taking up adjournment motion to hold discussion on the issue.
He said, "Nine members had given the adjournment motion under rule 67 and the Speaker of the house should allow discussion on withholding Rs 2 crore vidhyak nidhi for 2022-23, being given to MLA for development in their Assembly constituencies."
After the Vidhan Sabha speaker rejected their demand, the entire opposition staged a walkout raising slogans.
Speaking in the Assembly Chief Minister Sukhvinder Singh Sukhu said, "The Vidhayak Nidhi has not been stopped but withheld for some time as the Congress government is bringing a white paper on the economic situation of the state; the previous BJP government opened government colleges in reckless manner even in Panchayat Bhawan without making financial provisions, did not pay Rs 912 crore DA to employees and took huge loans."
Leader of the Opposition Jai Ram Thakur said, "The state government is always in continuity and the new government cannot run away from its financial commitments."
Speaking on the issue Deputy Chief Minister Mukesh Agnihotri said, "It s quite strange the issue of rights and privileges of the MLAs are being raised in the house despite discussing the matter in the meeting with the Speaker."
Two ordinances in house to amend section 6 of the Himachal Pradesh Municipal Act 1994 to reduce number of municipal wards from 41 to 34 for MC Shimla with each ward having a population of not less than 2500 and to levy water cess on Hydro power projects in the state to mobilize resources, were tabled.
The CM clarified, "The cess would not be levied on general public but on power producers like BBMB, NTPC, NHPC and SJVNL."