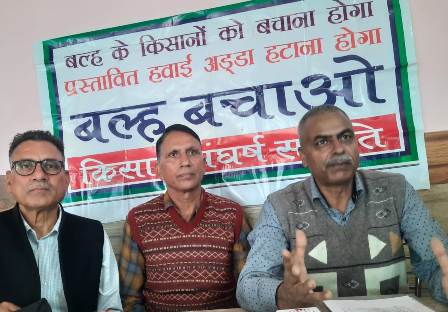 The Balh Bachao Sangharsh Samiti has demanded shifting of Greenfield Airport project from Balh valley of Mandi district to some other satiable place.
Talking to media persons at Mandi on Saturday President Joginder Walia, working President Prem Lal and secretary Nand Lal of the samiti said, "A Social Impact Assessment Report (SIAR) undertaken for the Airport project has confirmed our viewpoint of constructing the Airport at some other place and not to spoil fertile land of the valley for the proposed project."
They said , " The survey report has confirmed majority farmers whose land is being acquired for the project are not ready to give their fertile land for the project at a circle rate without getting similar land in lieu of their land and without getting compensation under the 2013 Land Acquisition and Rehabilitation Act ."
Reiterating their opposition to the Airport project on fertile land of Balh valley the samiti office bearers said, "It has also been made clear in the SIA report the proposed dream project of former Chief Minister Jai Ram Thakur in Balh valley was being pushed in haste as DPR of the project has not been fully prepared," they added.
The samiti office bearers asserted, "The proposed Airport project would render a large number of farmers homeless and landless, snatch from them lucrative cash crop farming occupation, destroy their culture and the construction would turn the land into a table top spoiling remaining land of the valley ."
The sangharsh smiti has urged Chief Minister Sukhvinder Singh Sukhu to save the farmers of Balh valley from their evacuation from their fertile land and shift the Airport project to some other suitable place like Jahu where enough barren government land is available .