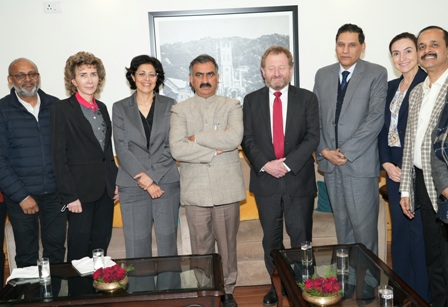 Regional Director, South Asia Region of the World Bank for sustainable development John Roome had a meeting with Chief Minister Sukhvinder Singh Sukhu at Shimla on Monday to discuss the measures suggested in the light of target set by the state government to make the state Green by 2025 with the assistance of the World Bank.
The World Bank team evinced keen interest in the project on Green Resilient Integrated Development Programme of the state on which approximately Rs 2500 crore are likely to be spent.
The CM said "The state government has set a target to install 200 MW solar power plants in the next nine month and propose to enhance the capacity to 500 MW by the year 2024."
"Transformation towards adoption of Electric Vehicles in the state is our priority and we hope to get generous help to launch such key programmes from the World Bank as we intend to convert all vehicles into EVs, besides implementing Green Hydrogen Mission launched by the Central government," he added.
Mr. Roome appreciated the initiatives of the state government and assured the CM to send a team for technical analysis of the projects.
Chief Parliamentary Secretary Sanjay Awasthi and Chief Secretary Prabodh Saxena among others also attended the meeting.