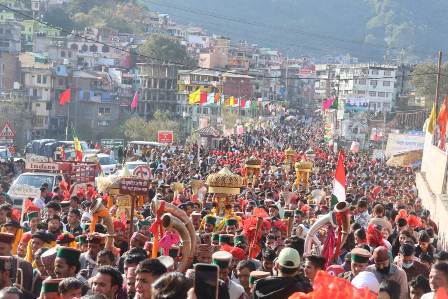 The week long Shivratri festival of Mandi concluded on Saturday. A jaleb (traditional shobha yatra) was taken out on the last day in which contingents of Police, Home Guards and a large number of deities carried on shoulders of devotees and a large number of dignitersi marched from Madho Rai temple to Paddal ground. The principal deity of the festival Madho Rai was carried in a palanquin.
Revenue Minister Jagat Singh Negi was the chief guest in the concluding day function. He paid obeisance in the Madho Rai temple and later participated in the jaleb.
Addressing a gathering at the Paddal ground the minister said , " The state government is fulfilling the guarantees given to people during the election and all guarantees would be fulfilled like giving Rs 1500 every month to women, 300 units free electricity, and buying milk from the farmers, besides providing employment to unemployed youths."
He said, "The state government headed by Chief Minister Sukhwinder Singh Sukhu is mobilizing economic resources to speed up development works by improving financial health of the state; several steps are being taken to develop horticulture by making the state a fruit bowl, and uniform development would be carried in backward areas."
The minister said, "The shivaratri festival has been established as a source of spiritual inspiration and as a great tradition; Dev Samaj plays an important role in celebrating the festival."
Local MLA Anil Sharma, Dharampur MLA Chandershekhar, DC Mandi Arindam Chaudhary and MC councilor Rajender Mohan among others were present on the occasion.
Earlier, before leaving to their destinations the devotees of the deities participating in the festival brought the deities to Chauhta bazaar where a large number of devotees sought their blessings in the morning.