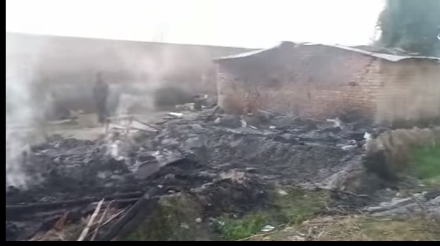 Four children were burnt alive when the house they were sleeping in was gutted in fire on Wednesday night at village Bane di Hatti under Amb sub division of Una district.
The children of migrant workers i.e. Neelu (14), Golu (7), Shivam (6), and Sonu (17) lost their lives as the house got completely burnt. The fire engulfed the surrounding houses damaging these and causing heavy loss.
A police source said, "The fire was spotted during the night but by the time people tried to douse fire many houses were burnt and four children of migrant workers hailing from Nandapuri village in Darbhanga district of Bihar died in the incident."
Local people, Fire Brigade and Home Guard personnel rushed to the spot to control the fire. The cause of the fire is still being ascertained.
Chief Minister Thakur Sukhvinder Singh Sukhu and Deputy Chief Minister Mukesh Agnihotri have expressed grief over the death of four children.
In a message the CM said, "The Government stands by the family in this hour of sorrow and directions have been issued to the district administration to provide immediate relief to the families of the victims".