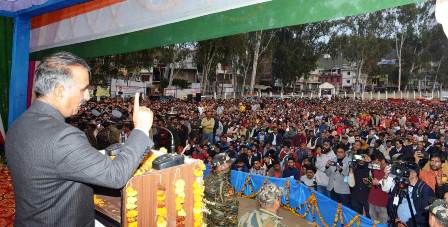 Chief Minister Sukhwinder Singh Sukhu has warned to take stern action against drug peddlers in the state.
Addressing a public meeting in his Assembly Constituency at Nadaun on Sunday the CM said, "Our government is launching a massive campaign against drugs and drug peddlers as use of drugs is spoiling young generation and it is our duty to save them from this menace; I warn people engaged in supplying drugs no one will be able to save them from the clutches of the law."
Expressing gratitude to the people of Nadaun the CM said, "The people of Nadaun always stood by me in every situation; even when I refused to become CPS and Chairman of a Corporation or when I lost the Assembly election, but your unflinching support has borne fruits as I have been given a chance to serve as the Chief Minister of Himachal, and I would always remain indebted to people."
He said , " Entire State Cabinet and I are working for people and results of these efforts would be visible soon as everything takes time ; we are committed  to serve the people of the state  as we are in the government to serve and not to enjoy power", he added.
To establish cord with the people the CM spoke in local Hamirpuri dialect.
The Chief Minister was welcomed at Jolsappad, Rangas, and Dangadi etc. The traffic on Naduan road remained jammed for quite some time as a large number of people came to welcome him at various places.
Earlier, the CM was felicitated by Nadaun Block Congress President (Retd) Captain Prithvi Singh.
Political Advisor to the CM, Sunil Sharma, Chairman of KCC Bank Kuldeep Singh Pathania, MLAs I.D, Lakhanpal, Sanjay Rattan, Suresh Kumar and Ashish Sharma were present on the occasion.