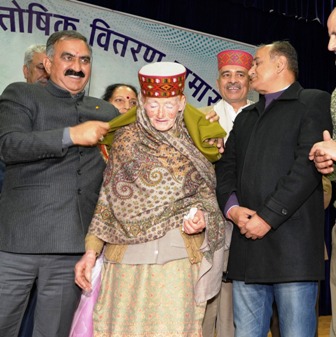 Chief Minister Thakur Sukhvinder Singh Sukhu has announced to give Rs 50 lakh for GSSS Chhota Shimla for improving infrastructure.
Presiding over the annual function of the school on Tuesday at Shimla, he said, "Education is top priority of the present government and we are taking definite decisions to improve the quality of education and the state government has decided to open Rajiv Gandhi Day Boarding schools to provide modern facilities."
The CM said, "The aim is to change the education system in the next ten years and a sufficient budget would be allocated for the sector, besides providing professional training to teachers, introducing new courses and modernizing education giving options to students."
Sharing his memories with the audience, being an old student of the school, he said, "I studied sitting on mats and encouraged the students by saying they can achieve anything in life with their hard work and strong will power; at the age of 17, I contested the election for a class representative while studying in Government College Shimla and have now become CM of the state", he added.
He announced Rs. 2 Lakh to the students who presented the cultural programme and Rs 50 lakh for the digital display and smart class rooms.
The Chief Minister honored his mathematics teacher Savitri Devi, Sweetshop owner Tilak Raj Chadha and his fellow schoolmates Manohar Verma, Pramod Sharma, Rajender Shandil, Ramesh Verma, Bhupinder Kanwar, Bal Krishan, Madan Verma, Pramod Chauhan, Kamal Dhaulta, RD Joshi, C Joshi, Devanand Verma, Surender Chauhan and Tilak Raj Chadha on the occasion. He also honoured the meritorious and other students who excelled in various fields.
Education Minister Rohit Thakur addressed the audience on the occasion. Several dignitaries were present on the occasion.