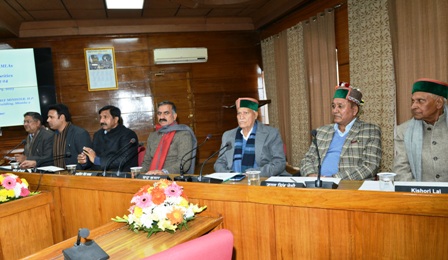 Chief Minister Sukhvinder Singh Sukhu has asked all MLAs to propose development plans of their constituencies keeping in mind good governance and welfare of people.
Presiding over MLAs priority meeting at Shimla with MLAs of Kangra district on Thursday the CM said, "The present government is working with a motive to effectively redress public grievances, provide efficient, accountable and transparent administration as the good governance is the hallmark of a good government."
He said, "The priorities of MLAs decide the path of the development and direction of the budget and they should come forward with a solution and suggestions rather than demands."
The CM sought more suggestions from the MLAs for making the state a green and clean state since the government has fixed a target to achieve this by 2025.
The CM said, "The state transport department will soon be equipped with the electric vehicles replacing the existing ones in a phased manner; all government vehicles would be replaced by electric vehicles by next year and limited permissions would be given at the Chief Secretary level for purchase of diesel vehicles" he added.
In the first session on the second day of the MLA priority meeting MLAs of Kangra and Kinnaur districts proposed plans for the development of their areas.
He said, "Efforts would be made to develop religious tourism at Indora and Nurpur and directed officers to prepare an action plan to enhance facilities for devotees at Jawalaji temple with the aid from Asian Development Bank, besides constructing Himani Chamunda ropeway and attracting tourists to Naddi and Pong Dam ."